Virtual Print Server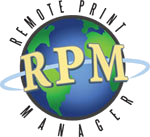 We Understand the Pain of Printing®
Printing should be one click away. but there are so many problems which make printing difficult if not impossible. RPM Remote Print Manager® (RPM) has grown through the years from all the print problems our customers have brought to us. We are here to help you solve your printing problems.
RPM is our virtual printer product. Our customers have been using RPM for 20 years!
RPM as virtual printer
RPM does what you expect a virtual PDF printer to do, and more:
RPM as print server
RPM is implemented as a Windows print server. Its core capabilities include:
RPM also provides extensive data editing, manipulation and translation.
Windows version support
RPM 6.0 supports these versions of Windows: Windows 2003, XP, Windows 7 and 2008, Windows 8, Windows Server 2012 and Server 2012 R2. We have used RPM on Windows 10 but have not stress tested it yet.